Our family loves traditions, whether it's Jamaican Christmas or Polish Easter, we love to participate in traditions that engage every member of our family and will be memorable for years to come.
This year, for the first time, we had the opportunity to attend a Manitoba tradition, the Annual Fall Supper.
Communities across the province gather to host a feast of gigantic proportions to those that would love some good 'ol homestyle cooking. Oh, and don't go to a Fall Supper expecting to eat anything "store bought", it is locally grown, delicious, farm-to-table food!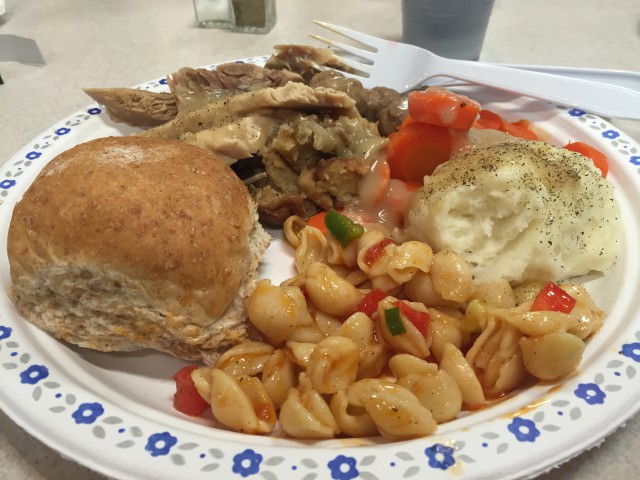 It's quite simple, buy a ticket, take a drive to the nearest community centre, arena, hall or church, and break bread with complete strangers! Sounds like fun right? We thought so!
We chose to go to a community area just outside of the city but long enough of a drive to test drive the new 2015 Ford Edge. The Ford Edge is also a Canadian tradition.
[Tweet "DID YOU KNOW? The 2015 #FordEdge is proudly built in Canada for more than a decade!"]
We are a family of 5, so the first question is, will the children fit comfortably in the back of the vehicle, with a car seat?
The answer is YES! The teens are very quick to point out when there isn't enough space and this time there was silence (yes, I enjoyed it immensely).
[T[Tweet "DID YOU KNOW? The 2015 #FordEdge has inflatable rear safety belts to reduce injuries in 2nd row positions."]blockquote>

As we took to the road, we all noticed the smooth ride on the highway. I was impressed with the BLIS – Blind Spot Information System which provides warnings to drivers when a car appears in your blind spot, a yellow indicator appears in the side mirror and when you use your turn signal to change lanes, the indicator light blinks if there's still a car in your blind spot. It works hand in hand with the Rear Cross Traffic Alert when you're in a busy parking lot, which was the case at the Fall Supper we attended in St. Adolphe, MB.

We thoroughly enjoyed attending our inaugural Manitoba Fall Supper!

Once we returned home, hubs and I dropped off the kiddies and decided to check out a few more features on the Ford Edge.

This slideshow requires JavaScript.

December 23, 2015 / 9:20 am