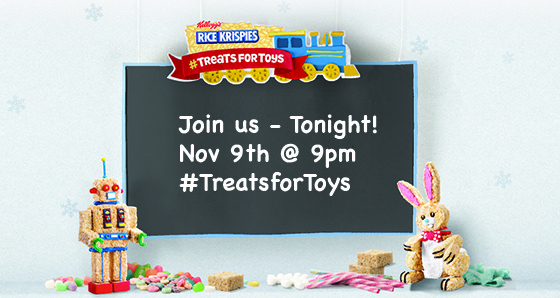 Kellogg's Rice Krispies wants to help us keep this in mind, and is inspiring families to embrace the holiday spirit of giving with their #TreatsForToys program. For any picture shared of a toy-shaped Rice Krispies treat with #TreatsForToys, Kellogg's will donate funds to the Salvation Army so a child in need will receive a toy this year.

To kick off this amazing program, Influence Central and Kellogg's Rice Krispies are hosting a Twitter Party TONIGHT – November 9th at 9pmET. We'll be discussing the meaning of the holidays for each of us, and sharing ideas on how to inspire in our children a lifelong passion for helping those less fortunate.
Join us TONIGHT!
What: #TreatsforToys Twitter Party
Who: @InfluenceHQ_ca & @RiceKrispiesCA
MORE WAYS TO WIN!
Participate in our Twitter Chat pre-party promotion by clicking the button below, you'll be helping us spread the word about the party, and as a thank you, each "entry" earned through these actions is an additional chance to win 1 of 3 $125 Kellogg's Rice Krispies prize packs!
Of course, you'll be STILL be eligible to win 1 of 6 additional $125 Kellogg's Rice Krispies prize packs at the party!
Enter the pre-party promotion here: http://influencecentral.ca/kelloggs-rice-krispies-treats-for-toys-twitter-party-promotion/