When Brekkie Consists of #CerealAndMilk You Win!
Mmm cereal, a nice bowl of crunchy cereal and cold milk are a great way to start your day, right? It helps that it's also good for ya!
Our pantry is always stocked with the following Kellogg's cereals:
Vector – for the fiance
Special K Vanilla Almond – for the tween and teen
Rice Krispies – for the toddler, and
Raisin Bran, Oats & Honey, or Mini Wheats for me!
We are not the only family who loves their cereal and milk, the rest of Canada does too: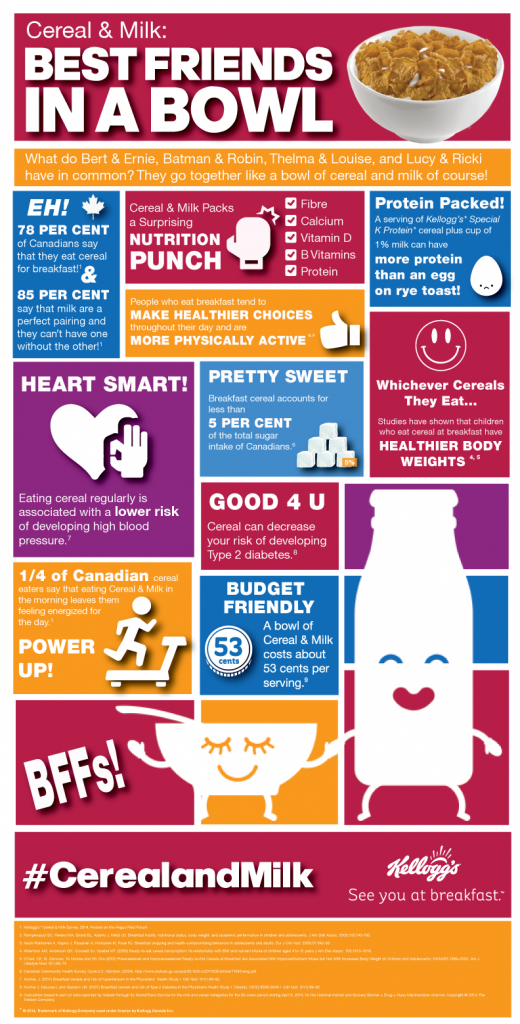 Here's an interesting fact for ya:
Cereal lovers actually disagree on the ideal cereal to milk ratio. Forty per cent (40%) say that one third of the bowl should be filled with milk. Thirty per cent (30%) maintain that you should add milk only until your cereal begins to float. And a small but mighty six per cent (6%) of cereal experts are adamant that there should be more milk than cereal in the bowl
How about you? I'm in the 30% to be honest. I need a lil flotation before I can have that first spoonful!
Tweet or Instagram your #CerealAndMilk, I'd love to see them and so would Kellogg's!
Would you like to win a Kellogg's Prize Pack? It's worth about $50 and includes a vintage Kellogg's ceramic cereal bowl, vintage Kellogg's t-shirt, and an assortment of Kellogg's cereals – all to celebrate Cereal & Milk! (please note the prize pack may not be exactly as shown below)
ENTER NOW!